Your Guide To Shot-Gunning Proficiency For Clays and Hunting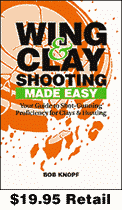 Wing and clay enthusiasts (and would-be wing and clay enthusiasts) now have a concise book that will enhance their shooting skills on both the clays course and hunting fields. This small-sized, well illustrated, take anywhere book, Wing & Clay Shooting Made Easy, explains the do's and don'ts of wing and clay shooting in a way that will have you shooting better in no time.
This is a "how to shoot well" book without fluff that delves into all shotgun shooting methods and provides guidance on how to build these into your personal shooting style. It has chapters on shooting fundamentals, shooting methods, analyzing targets, how to shoot pairs, about chokes, loads and patterns, gun fit, how to correct shooting ailments, and how to use your built in computer (your mind) to shoot better. Shooting jargon has been minimized, and shooting concepts are easily understood. Numerous photos and diagrams illustrate key shooting methods, sight pictures, and shooting situations encountered on the clays range and in the field.
The book's author, Bob Knopf, is a certified National Sporting Clays Association (NSCA) instructor and chief instructor for the National Wing & Clay Shooting School.
The book has received praise from top shooting organizations, including the National Sporting Clays Association and the Women's Shooting Sports Foundation.
Clubs and Resorts
If you are the owner of a shooting club, range, or resort, we have a special book distribution program that allows your club to profit from selling Wing & Clay Shooting Made Easy to your club members. For full information, e-mail us today.


"Bob's book builds on NSCA's shooting philosophy. Following his advice will make a better shooter of anyone reading this book."
- Mike Hampton, Executive Director, National Sporting Clays Association.
"I would recommend this book to any woman participating in the shooting sports. Bob's approach to shooting relates to the beginner as well as the experienced shooter. His advice will enhance any shooter's game."
- Shari LeGate, Executive Director, Women's Shooting Sports Foundation.
---
Book Topics:
Three Shooting Fundamentals
Moving The Gun To The Target
The Gun Mount
Finding Your Personal Sight Picture
Shooting Methods Described
Applying The Shooting Methods
Reading Targets
Pairs Are Easy
Chokes, Loads & Patterns
Gun Fit
Tips For Better Shooting
Mental Control
Correcting Shooting Ailments