About The National Shooting School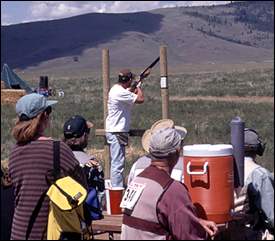 The National Wing & Clay Shooting School gives shooting instruction tailored to each shooter's or group's specific need and skill level. In our general shooting clinics, we teach 5-10 shooters per class. Additionally, we host corporate events and special shooting clinics for larger groups. We teach at top shooting facilities and shooters shoot a variety of interesting targets. Shooting instruction is by top National Sporting Clays Association (NSCA) certified instructors who instruct in an easy, non-intimidating, coaching style.
The National Wing & Clay Shooting School
Teaches All Wing & Clay Shooting Methods!
We Instruct All Skill Levels


New Shooters
Learn shotgun shooting skills quickly and easily. We teach new shooters all basic wing and clay shooting skills, including gun safety, range etiquette, basic gun fit, beginning shooting methods and proper form. We help them develop personal sight pictures for clays and hunting. All shooters are taught how to break a variety of target presentations.
Women and youngsters are particularly encouraged to participate. New and beginning shooters use light recoil, small gauge shotguns and loads so they develop correct technique without concern about recoil.
Intermediate & Advanced Shooters
Intermediate and advanced shooters shoot more difficult targets and learn techniques to help them excel at sporting clays, 5-stand, skeet, FITASC, and bird hunting. We teach how to hit complex targets, shoot at longer distances, and instruct on the mental aspects of competitive shooting.
The National Shooting School provides great opportunity for both clays shooters and hunters to learn to shoot and to hone their shotgun shooting skills to be more successful in the field and on the clays course.
About Bob Knopf,
Chief Shooting Instructor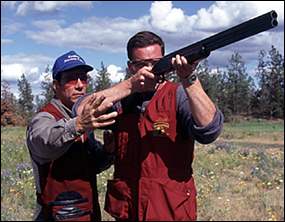 Bob Knopf, chief shooting instructor, is a National Sporting Clays (NSCA) certified instructor and Chief Instructor for the National Wing & Clay Shooting School. He is author of the book, Wing & Clay Shooting Made Easy. Bob began shooting at age 15 and has hunted waterfowl and upland birds across the U.S. for more than 30 years.
Bob has helped hundreds of shooters improve their shot-gunning scores and hunting prowess. Bob authors numerous features on wing and clay shooting and travels to clubs, resorts, and shooting facilities teaching wing and clay shooting skills. His belief that successful wing shooting can be learned quickly and easily by anyone is reflected in his teaching style that will benefit anyone interested in improving their wing and clay shooting skills.