Frequently Asked Questions


What is the difference between the Northwest Shooting School and the National Shooting School?
The Northwest Shooting School was established in 1994 and hosts schools at select clubs throughout Washington and Oregon. The National Shooting School, established in 1997, offers clinics and corporate events in all remaining states and abroad, providing top quality shooting instruction worldwide. Each school offers identical programs. The Northwest Wing & Clay Shooting School is an affiliate of the National Shooting School.
Explain shooting activities at a typical one-day clinic?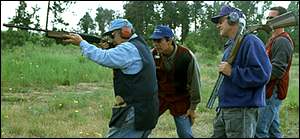 At a typical one-day clinic, instruction runs six to seven hours. We have six to eight shooters per clinic, and instruction is individually tailored to each shooter's needs and skill level. A variety of target presentations are shot. Advanced shooters generally shoot more targets, focusing on special problem shots, doubles, and longer shots. Beginning shooters are instructed in basic shooting skills, learn gun safety, range etiquette, and how to hit closer targets using their pointing instincts. Multiple day clinics run consecutive days with shooters advancing to new targets and learning experiences.
What is included in the cost of a National Shooting School?
The costs for the National Shooting School include instructor fees and instructor travel to the shooting facility. Shooters supply their own ammunition and pay for targets at club prices. The school provides loaner equipment, including shotguns, shooting accessories, shooting glasses, and hearing protectors at no charge, however shooters are encouraged to use their own equipment. Travel to the shooting facility, meals and other expenses for the shooter are not included in the school price.
Which wing shooting methods are taught?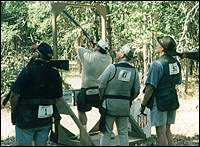 Unlike many shooting schools, the National Shooting School teaches all shooting methods, including: instinctive or point and shoot, pass through, maintained lead, and pull away. We also teach specialized techniques such as shooting to the lead and the bayonet method.
Where are schools held?
The National Shooting School operates 12 months a year and travels to top shooting facilities across the country. We will hold a school at a club in your local area. We offer special programs that dovetail with scheduled club events and special clays and gamebird hunting combo packages. We travel to any shooting facility in the country where we can schedule six to eight shooters for two one-day back-to-back clinics.
How do I schedule a school at my club?
To have us arrange a school at your local club, contact Bob Knopf at 360-798-1494, or e-mail: shooting@shootinginstruction.com. We will bring a National School to any facility where we have sufficient interest.
How are students booked into a school?
We work with individual clubs to promote and register clinic attendees. All attendance is by advance registration only, and we require an $85 advance deposit for each registered shooter. We require six to eight shooters for each full day session. If a school doesn't book the required number of shooters, the school is postponed until the needed number of students is reached.