Shooting Clubs -
How To Host A Shooting Clinic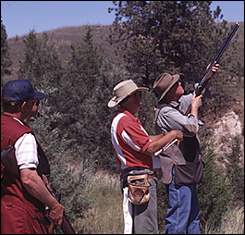 As interest in wing shooting reaches new highs, your club or shooting preserve can participate with the National Shooting School to generate shooting enthusiasm.
Since it is well known that shooters who receive shooting instruction shoot more often, we encourage you to host a National Shooting School at your club or resort.
We personally work with you to develop a school package that is tailored to your club's services. If you are a preserve owner, we can combine instructional clinics and gamebird shooting. We can schedule an all-woman's or youth only clinics, or clinics for more experienced shooters. If you hold competitive shoots, we can hold special simultaneous instruction for competitor's spouses, friends, and children. Our clinics are also a great way to promote and feature your club, since we feature your club on our web site and promote your facility in our school announcement mailings.
The National Shooting School operates twelve months a year, and we travel to shooting facilities across the U.S. and abroad.
How do I arrange a National Shooting School at my club?
We encourage your club to host a National Wing & Clay Shooting School and we work with your club to market our schools and promote your club's facilities to shooters in your area and across the country.
We support your club in the following ways:
We feature your club and post scheduled school dates on our web site.

We send your club a host packet which includes:

Announcement flyers (5) for posting (these may be copied for mailing to your members).
A sign-up form to post for shooters to attend a school.


We also feature your club in our mailings sent to shooters who inquire about schools on our web site, and through mail and phone inquiries.
When selecting school dates, we select three back-to-back days, e.g. Friday, Saturday, Sunday, for each school. We allow two to six months time to fill the school.
We must have six to eight shooters each day, since instructor travel cost is built into the school price. Shooters may attend one or multiple days.
We request that you announce and feature our schools in your club mailings, by posting information at your facility, and by word of mouth to shooters visiting your club and at clays tournaments you host.
You set club fees to charge each shooter for targets, any hosted meals, or use of club facilities as per your standard club policy. We need copies of your club prices, a few brochures, information on club policies, etc., so we may forward these to interested shooters.
Each shooter pays the National Shooting School a fee of $295/day for instruction, which includes instructor travel cost. Meals, targets, lodging, ammunition, and related expenses are not included in this fee. If you have resort facilities, we frequently offer a "package" program that includes lodging, meals, etc. Many shooters will travel to resort locations from other states.
If we do not receive sufficient shooters for a school, we postpone the school until we have the required number of shooters (8 shooters/day for 3 days).
Regarding facilities, we require a sporting clays course, or five stand, or a skeet field. We prefer to have both a sporting clays course and a five stand. We teach all skill levels and only use NSCA Certified top level (Level II or Level III) instructors.
For a shooter to reserve a spot, we require a $175 deposit per day per shooter paid directly to the National Shooting School, and we must have received sufficient deposits four weeks before the school or else we postpone the school.
If a school is canceled for any reason, we refund all deposits in full. If the school is held and a shooter does not show, they forfeit their deposit. We credit their deposit to attend a National Shooting School for one calendar year (at any of our schools), after which time the deposit is forfeited.
To schedule a National Shooting School at your facility, contact Bob Knopf, 360-798-1494, or e-mail: shooting@shootinginstruction.com. We provide full information.
Shooting activities at a typical one-day clinic
At a typical one-day clinic, instruction runs approximately six to seven hours. We require six to eight shooters per clinic. Instruction is individually tailored to each shooter's needs and skill level. A variety of target presentations are shot. More advanced shooters generally shoot more targets, beginners shoot less. Generally a shooter will shoot between 150-200 targets per day. Beginning shooters are started with instruction in basic shooting skills, whereas, more advanced shooters focus on their areas of specific interest.
Special Note To Clubs & Resorts
If your shooting club or resort needs a new brochure or web site, or if you'd like a banner ad placed on our National Shooting School site, visit our design partner, Outdoor Management Network Inc., a web marketing firm that specializes in innovative web sales and marketing strategies for outdoor companies.